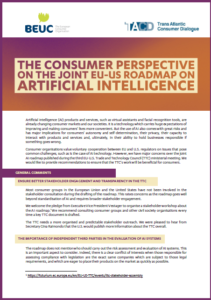 As artificial intelligence (AI) continues to permeate our daily lives through virtual assistants and facial recognition tools, consumer and digital rights groups recognize the value of cooperation between EU and U.S. regulators in tackling common challenges posed by AI technology. TACD and BEUC, the European Consumer Organisation, publish today their joint response to the joint AI roadmap released at the third EU-U.S. Trade and Technology Council ministerial meeting to share our concerns and aim to provide recommendations to ensure the best outcome for consumers.
The need for cooperation between EU and U.S. regulators: voluntary cooperation welcomed, but domestic definitions of key concepts comes first
EU-U.S. cooperation and sharing of best practices can be beneficial for consumers. Consumer and digital rights organizations from the EU and U.S. urge the Trade and Technology Council to prioritize the domestic definition of key AI concepts before taking a transatlantic approach. This is crucial in ensuring fairness and transparency in the implementation of AI in our societies. The definitions of such concepts matter as they will define how consumers will be protected from bias algorithms for example.
Stakeholder engagement and transparency in AI discussions: essential for consumers' benefits and protections in the AI Roadmap
This consumer perspective on the AI Roadmap calls for better stakeholder engagement and transparency in the discussions around AI. The TTC needs a more organised and predictable stakeholder outreach: most consumer and digital groups in the EU and U.S. have not been involved in the stakeholder consultation for the drafting of this roadmap.
With AI products and services already changing consumer markets and societies, the TACD and BEUC policy paper provides crucial recommendations to ensure that the joint EU-U.S. Roadmap on AI benefits consumers and protects their interests.
Background
The "Joint Roadmap for Trustworthy AI and Risk Management" has been developed in the context of the EU-US Trade and Technology Council.
BEUC, the European Consumer organisation is a member of the Transatlantic Consumer Dialogue.
More
U.S.-EU Trade and Technology Council: Interim feedback form consumers across the Altantic (December 2022)
TACD Recommendations for the EU-U.S. cooperation agenda (December 2021)
Lack of transparency could thwart the strong consumer safeguards that must be the goal of EU-U.S. cooperation dialogues (September 2021)