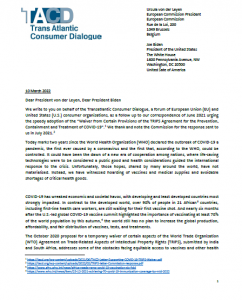 The Transatlantic Consumer Dialogue (TACD) has today sent a letter to EU Commission President Ursula von der Leyen and U.S. President Joe Biden in which we urge them and their administrations to:
Engage in text-based negotiations on the proposal from India and South Africa to secure a waiver of patent, copyright, industrial design, and undisclosed data provisions on all COVID-19 health technologies, including vaccines, tests, and therapeutics.
Support WHO-backed mRNA vaccine manufacturing technology transfer hubs round the world and measures to make manufacturing know-how a global public good.
Only a comprehensive waiver will remove the WTO barriers currently standing in the way of global access to COVID health products and unnecessarily prolonging the pandemic's death and devastation.
Friday 11 March 2022 marks two years since the World Health Organization (WHO) declared the outbreak of COVID-19 a pandemic, the first ever caused by a coronavirus and the first that, according to the WHO, could be controlled. It could have been the dawn of a new era of cooperation among nations, where life-saving technologies were to be considered a public good and health considerations guided the international response to the crisis. Unfortunately, those hopes, shared by many around the world, have not materialised. Instead, we have witnessed hoarding of vaccines and medical supplies and avoidable shortages of critical health goods.
The October 2020 proposal for a temporary waiver of certain aspects of the World Trade Organization (WTO) Agreement on Trade-Related Aspects of Intellectual Property Rights (TRIPS), submitted by India and South Africa, addresses some of the obstacles facing equitable access to vaccines and other health technologies, specifically limited manufacturing capacity mainly caused by intellectual property-based monopolies. While opposed by the EU and a handful of governments, the proposal gained the formal support of 63 official co-sponsoring parties, with scores of members of national Parliaments across Europe endorsing calls for the EU to engage in constructive negotiations. The European Parliament too has approved —by wide margins— up to three formal calls (May 2021, June 2021, November 2021) for the European Commission not to hinder negotiations toward a mechanism that can play a critical role in achieving universal equitable access to vaccines, therapeutics, and diagnostics.
TACD members call on the European Union and the U.S. to avoid repeating the tragedy of the HIV/AIDS crisis. In the late 1990s, millions of people in developing countries were dying from AIDS because pharmaceutical firms refused to provide affordable access to the medicines that made AIDS a treatable chronic disease for those who could afford lifesaving drugs.
More: